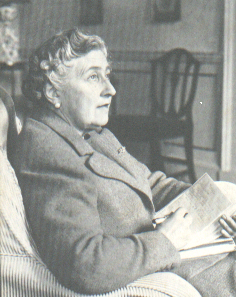 Agatha Christie
(1890-1976)
An English mystery writer
Agatha Christie was educated at home and studied singing and piano in Paris. Agatha worked as a nurse in a Red Cross hospital during World War I broke out and that experience was useful later on.
Her first book was The Mysterious Affair at Styles. But Agatha's books first attracted attention when she publised The Murder of Roger Ackroyd. Her disappearance is still a mystery. When she was around 40 years old she went on a holiday and visited e.g. Iraq where she met an archaeologist who was 14 years younger than her. During World War II Agatha worked in the dispensary of University College Hospital in London. She often assisted her husband on excavations, e.g. in Iraq and Syria.
Agatha Christie wrote nearly seventy novels in her career and more than a hundred short stories. Her most famous characters are Hercule Poirot and Miss Marple. Agatha's plays have also made her famous and her best known play, The Mousetrap, is most likely the best known mystery play in the world.
Agatha was the president of the Detection Club. She became Dame Agatha in 1971. Agatha Christie died 12 January 1976, and two years after her husband's death.
"An archaeologist is the best husband any woman can have: the older she gets, the more interested he is in her."