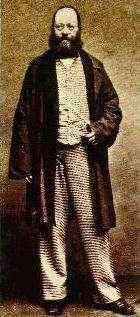 Edward Lear
(1812-1888) born on May 12
An artist, traveller and writer
He wrote A Book of Nonsense (1845), with his own limericks and illustrations. As a writer he is remembered for his nonsense verses, with their linguistic fantasies and inventiveness and their occasional touches of underlying melancholy.
Edward Lear was the twentieth child of a London stockbroker.
Four years after his birth, his father fell a defaulter in the Stock Exchange and the family had to abandon the fashionable life to which they were accustomed. Edward's upbringing was entrusted to his sister Ann, twenty-one years his senior, and Mrs. Lear had nothing more to do with it. Young Edward certainly resented his mother's rejection, but found all the love he needed in Ann.
He was first attacked by what he called 'the Demon', epilepsy, when he was five or six, and a few years later 'the Morbids', sudden changes of mood with bouts of acute depression, began.
His early education was completely left to Ann and Sarah, another sister: beside the typical tuition books of the age they read to him classical tales and modern poetry (the Romantic poets), and taught him to draw, especially natural subjects.