Hey Kids! Why not talk to Jolly? She would love to hear from you.
Anything which you care to tell, she will listen with heart and help in whatever she can. She would like to cheer you up whenever you feel down or even chat with you when you feels lonely. Jolly wants all kids with epilepsy to live happily while staying strong & healthy! So just let her know the problems or questions you may be having with epilepsy, complaints with schools or at home or even just a simple "hi", just to let Jolly knows you've been here!!
Jolly is always waiting for your mail so do drop her a line if you can.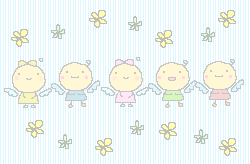 jolly & her angelic friends : "We like to be your friends!!"




Overview Types Diagnosis&Treatment Surgery Management